TONTO EXPOSES A FRAUD
Lobby Card Scene from the 1956 movie,
'The Lone Ranger'


BRAVE WARRIOR
In this 1952 western.
He plays native american chief 'Tecumseh.'
The leading man is
JON HALL.
Basic story line. Native americans clash
with the Whiteman.
In this sceen Tecumseh is fighting
his brother, 'The Prophet' played by actor
MICHAEL ANSARA,
for control of the tribe.

BRAVE WARRIOR
Lobby Card Scene from the 1952 western.




'BROKEN ARROW'
One of the better westerns
Hollywood ever produced.
Director
Delmer Daves
filmed an out of the ordinary
native american tale. Mr Daves' ability to
portray accurate ceremonial details.
Stems from the fact that as a youth
he had spent much time living on
Native american reservations with the
Hopi and Navajo Native american Tribes.
MR SILVERHEELS
gives one of His best performances.
He has a very powerful scene as Geronimo.
He stars in this movie with
JAMES STEWART
and
JEFF CHANDLER
For his portrayal of Cochise.
Mr Chandler was nominated
for an Academy Award.
SASKATCHEWAN
In this 1954 film.
He plays friend and native american guide
'Cajou' to leading man
ALAN LADD.
It was directed by
RAOUL WALSH.
The western Canadian
locations are very
impressive.


DRUMS ACROSS THE RIVER
In this 1954 film.
He plays Indian brave
'Taos'
AUDIE MURPHY
is the leading man.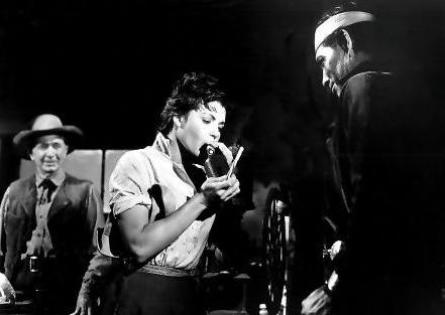 FOUR GUNS TO THE BORDER
Scene Still-1954
Rory Calhoun stars in this Western based on a
novel by Louis L'Amour. Calhoun plays Ray Cully,
a financially insecure ranch hand who teams up
with three other impoverished cowboys
(John McIntire, George Nader and
Jay Silverheels, who plays 'Yaqui')
to rob a bank. As they make their escape, however,
they encounter an old friend and his beautiful daughter
(Walter Brennan and Colleen Miller)
caught in the middle of an attack by Native Americans,
and stop to help out, putting their own lives in danger.