MORE LINKS TO FORT ORD SITES:
Fort Ord YouTube Videos
Fort Ord A Base To
Be Remembered
Fort Ord
Remmembered
Ft Ord Dunes-Ca
State Park Project
Monterey County
Fort Ord Page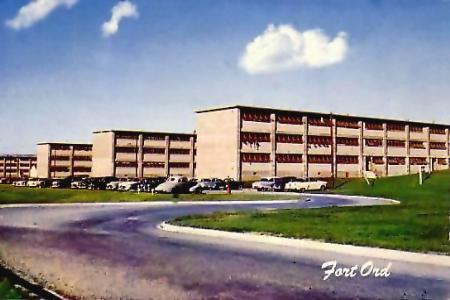 Other Fort Ord
Related Sites
Defense Language Institute
The Parks
Ord Military Housing
Clark Reality
(OMC) - Phase 1
HHQ 9th
Inf Reg
FORT ORD
Under
Construction
FORT ORD
Barracks
Photo Links

21st Century
FT ORD TODAY


1975/94
7th ID[Light]


1970/74>
7th INF DIV


1960
US 6TH ARMY


1950
6th INF DIV


1940
STAGING AREA


1940
VET STORIES


40/00
MORE PHOTOS
NEW
Post Cards

NEW
D.I. School
Radio Vietnam
Music from
the 60s & 70s
Home | Photos | FtOrd Links | More Photos | Army LInks | Contact
SITE CREATED BY
C CRAIG COOMER
ON 07-20-02
LAST UPDATED ON 08-14-06
7TH INFANTRY DIVISION [LIGHT]
FAREWELL CEREMONY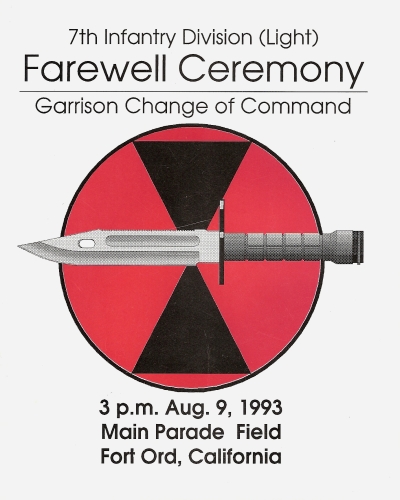 On Aug 9th 1993, the 7th INF DIV LIGHT at Fort Ord. Held it's
deactivation ceremonies on the main parade field at the fort.
The following brochure was given to the participating crowd.
The brochure details the history of the 7th from it's beginning
up to the time of deactivation at Fort Ord. It covers many different facts
of the 7th, the history of it's beginning, the commendations received,
Medal of Honor winners and a list of Commanders over the numerous
decades. To name just some of the information available in it's pages.
7TH INFANTRY DIVISION [LIGHT]
THE LIGHT FIGHTER CREED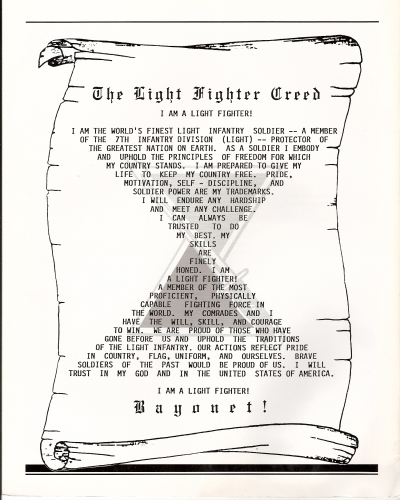 The light fighter creed is printed on the back cover of the brochure.
The creed defines the standards by which the 7th Infantry Light,
conducts itself in duty and service. It speaks for the large numbers of
individuals who have served honorably under the hour glass patch.
The wording of the creed speaks for itself.