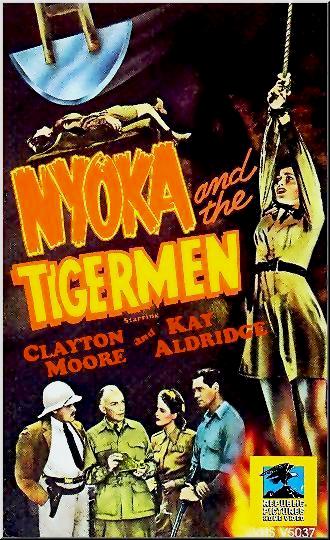 THE PERILS OF NYOKA
The Perils of Nyoka
{ later titled,'Nyoka and the Tigermen' }
was filmed from March 20 to May 2, 1942.
Actress Kay Aldridge played Nyoka Gordon.
Actress Lorna Gray played the evil Vultura.
Uncle Clayton played Dr Larry Grayson.
It was directed by Republic Pictures
leading director, William Witney.
The story line is, the good guys are
trying to beat the bad guys to the
Golden Tablets of Hippocrates.
Sound familiar? It should.
George Lucas
and
Steven Spielberg
studied this
Saturday matinee
before filming their
own cliffhanger named,
'Raiders of the Lost Ark'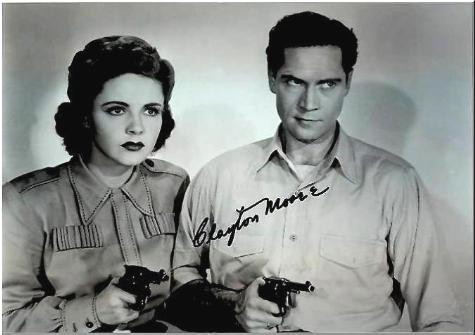 NYOKA AND LARRY

Although he did several serials.
'Nyoka' was Uncle Clayton's favorite.
"I learned a great deal
about movie making on the set of
The Perils of Nyoka.
We worked from eight in the morning
until the sun went down.
It was hard work.
But it was just such fun to do!"
'Clayton Moore'



TO THE RESCUE
Nyoka is filled with
many scenes like this one.
Larry is constantly saving Nyoka
from the jaws of death.
Our Hero!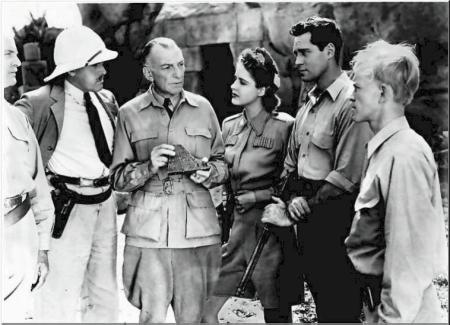 PLANNING THEIR NEXT MOVE
Nyoka also stars
from left to right.
Forbes Murray, as Prof Douglas Campbell
George Pembroke, as John Spencer
Robert Strange, as Prof Henry Gordon
Kay Aldridge, as Nyoka
Uncle Clayton, as Larry
William Bennedict, as Red.