My Photo Album
Dad and Uncle Clayton
They were the Best!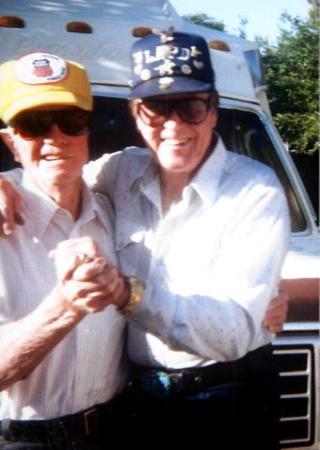 Friends Forever!
As busy a schedule Uncle Clayton had
making personal appearances to meet
all You wonderful people out there.
He always made time to stop and see His very good friend,
Carl C Coomer, my father.
This photo was taken in June 1985.
Dad was battling cancer at the time.
Whenever Uncle Clayton showed up.
Dad couldn't have received any better medicine.
It would really lift his spirits.
They shared a very profound friendship for four decades.
To look at this particular photograph brings tears to my eyes.
Its a photo of the two most influential men of my life.
I will always hold a special place in my heart for the both of them.
There is some comfort in the knowledge that they are together again.
Godspeed Gentlemen!




On The Road Again
Here he is again with his trusty motorhome.
Hope He can stay awhile this time.
We know how important it is to him to please his fans.
Which means we have to share him with the rest of the world.
How wonderful it is to know that they love and
adore him as much as we do.
"Hi Yo Motorhome Away."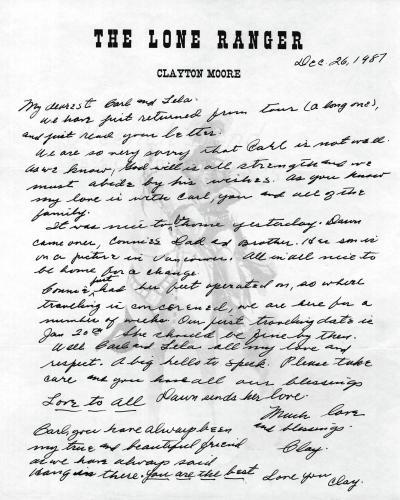 A Letter From Clay
Uncle Clayton's final letter to Dad.
It speaks for itself.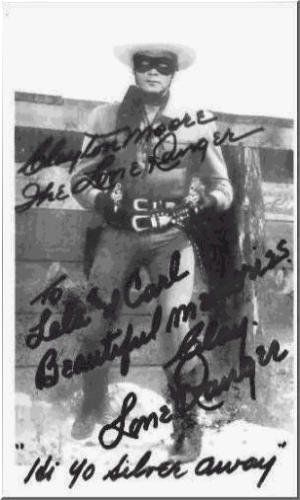 To Lela & Carl
This is the last promotional photo
Uncle Clayton signed for Mom and Dad.
Uncle Clayton was a man of class and distinction.
He lived his childhood dream and
shared that dream with us, enthusiastically.
Our commodity was his charismatic persona,
and he enriched our lives with his presence.
He may have left us,
but the legend will live on forever.
He truly was
' The Lone Ranger.'