My Photo Album
Personal Appearance
Grand Opening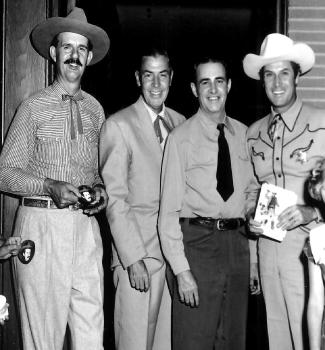 Welcome to Coomer's Camera Center
The three gentlemen with Uncle Clayton
are helping dad kick off his new camera store in Pacoima, Ca.
The date was August 21, 1953.
Uncle Clayton is holding a promotional picture of himself
that dad had taken. Not as The Lone Ranger.
It was a shot taken on the set of the movie,
"Son of Geronimo."
The gentleman's name on the far left is 'Slim Andrews'.
He has promotional picture disks of himself in his hands.
I'm still trying to find out what type of act he performed.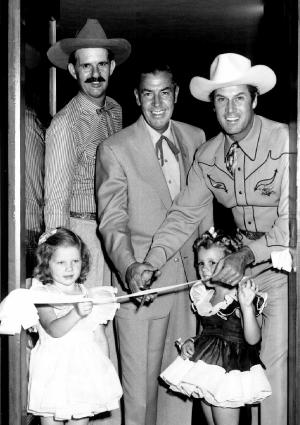 Ribbon Cutting
It's not what I'd call a traditional ceremonial ribbon.
But I'm sure Uncle Clayton was more than happy
to be there for dad to help him out.
The little girl on the
left is my sister 'Sandra.'
I was barely three years old at the time.
So I missed this event entirely.
In the attached photo.
Mom is the lady in the window
smiling and enjoying the proceedings.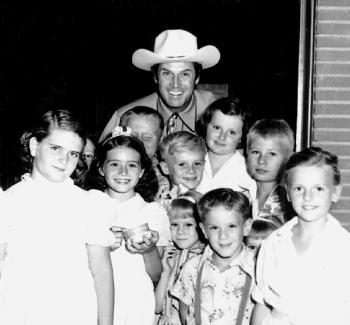 The Natural
I wonder if Uncle Clayton was aware at the time
as to how common this situation would become for him.
The TV series hadn't been on that long.
But being around kids was obviously his forte even then.
He was a natural,
as all you big kids out there came to find out for yourselves.
There was no way you could resist that wonderful smile of his.
In the attached photo, Mom is still in the window.
This time with a male friend.



Whats for Dinner?
I don't know if this was taken
before or after the camera store opening.
It looks as if it was taken on a different day.
I barely remember this restaurant.
We use to go there alot when I was just a little guy.
The painting in the background is familiar,
I don't remember the people standing next to Uncle Clayton.
They naturally seem happy to be in his presence.