WELCOME TO FT ORD
MAIN GATE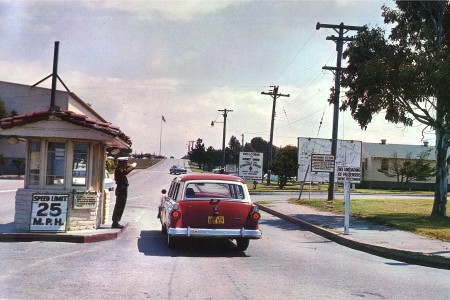 This is what the main gate at Fort Ord
looked like during the 1950s. The guardshack will
be moved to a concrete island at a later date
when the main entrance road is expanded.
6TH INFANTRY DIVISION
6TH INF DIV COLORS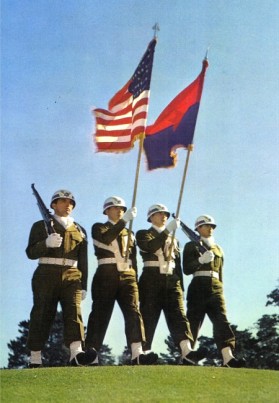 Color guard for
the 6th Inf Div.
FROM TENTS TO WOOD BARRACKS
TO THE HILL
The top photo is of the East Garrison area and
'Tent City.' The middle is the wooden barracks.
The bottom is the construction of the concrete
barracks in the area later known as, 'The Hill.'
At this point in time. Tent City would be phased out.
The wooden and concrete barracks would
become the main servicemen housing on the fort.
FULL DRESS INSPECTION
DRESS RIGHT
Dress inspection in the Company Street
was performed either weekly
or bi-weekly event. Of course the trainees
could expect a less formal one on a daily basis.
THE RIFLE RANGE
M-1 RIFLE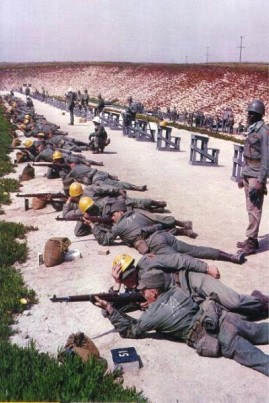 The M-1 rifle had remained the
weapon of choice for the
infantry during the fifties.
FIELD TRAINING
LOW CRAWLING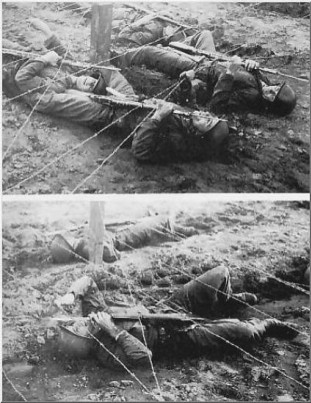 Some things never change.
Training in the field has not changed
much over the years.
Low crawling under barbwire has been
an important technic shared with many trainees.
5TH INF DIV
NEW ASSIGNMENT
The 6th Inf Div began the 1950s at Fort Ord.
Sometime around the middle of the 1950s.
The 5th Inf Div moved in and took over the daily
duties at the fort.
Home | Photos | FtOrd Links | More Photos | Army LInks | Contact