"7TH INFANTRY DIVISION [LIGHT]"
SOLDIERS LIFE
The 7th Infantry was the last
division assigned to Fort Ord.
It's tour of duty was from 1975 to 1994.
In August 1993, part of the Division was
reassigned to Fort Lewis, WA and
deactivated in June 1994 at Fort Ord.
On June 4, 1999 it was reactivated
and assigned to Ft Carson, CO.
DAILY TRAINING
ALWAYS PREPARED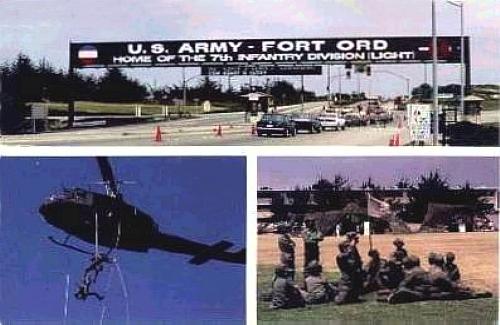 Light Infantry Divisions
operate without the support of
heavy tanks, armor, or artillery.
Light infantry troops are
trained in special tactics.
Such as rapid deployment to
important objectives.
FIELD TRAINING
FIELD EQUIPMENT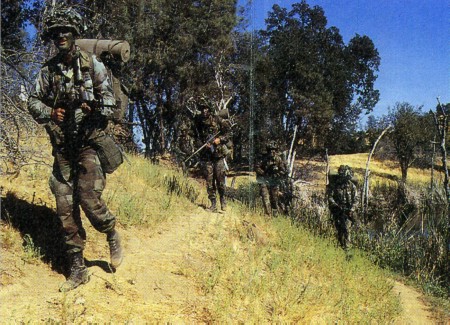 Constant training in the field
is necessary to assure that
a unit is combat ready.
The 7th Infantry Light
had the beautiful hills
of Fort Ord for their
training grounds.
END OF AN ERA
FIELD MANEUVERS
The back hills of Fort Ord were the perfect
training fields for many generations.
The 7th Inf Div Light was the lastest
and the last to use the terrain of
Fort Ord to perfect their skills
as an effective combat unit.
7TH INFANTRY DIVISION [LIGHT]
FAREWELL CEREMONY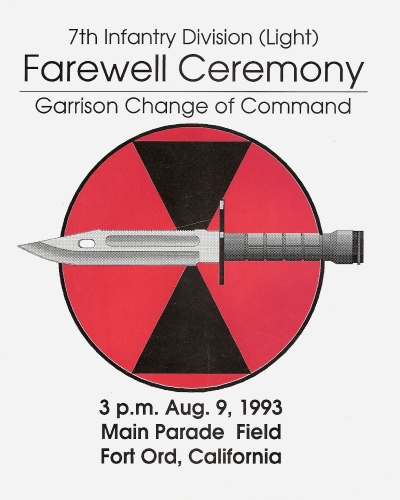 On Aug 9th 1993, the 7th INF DIV LIGHT at Fort Ord. Held it's
deactivation ceremonies on the main parade field at the fort.
The following brochure was given to the participating crowd.
The brochure details the history of the 7th from it's beginning
up to the time of deactivation at Fort Ord. It covers many different facts
of the 7th, the history of it's beginning, the commendations received,
Medal of Honor winners and a list of Commanders over the numerous
decades. To name just some of the information available in it's pages.
7TH INFANTRY DIVISION [LIGHT]
THE LIGHT FIGHTER CREED
The light fighter creed is printed on the back cover of the brochure.
The creed defines the standards by which the 7th Infantry Light,
conducts itself in duty and service. It speaks for the large numbers of
individuals who have served honorably under the hour glass patch.
The wording of the creed speaks for itself. Just one year and one month later.
Fort Ord deactivated it's military training status and transfered to civilian
training status with the establishment of the University of California - Monterey Bay.