CAMP ORD
TENT CITY
Over the years as the reservation
grew in size. It usefulness would grow
as well. With this growth came change.
From 1933 to 1940
the area was known as
'CAMP ORD'
TENT CITY
LIFE UNDER CANVASS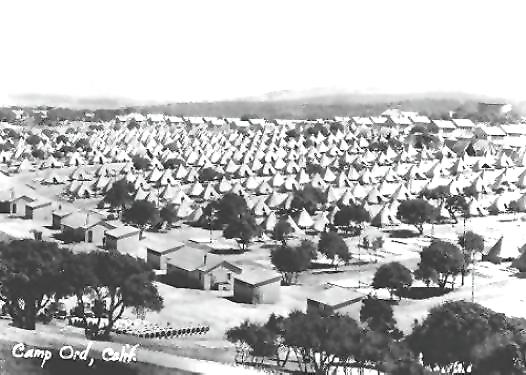 Thanks to the family of a trooper
who trained there in the early forties.
We can take a look inside 'Tent City'
Trooper Kenneth W. Swem will be our guide.
FORT ORD
NEW NAME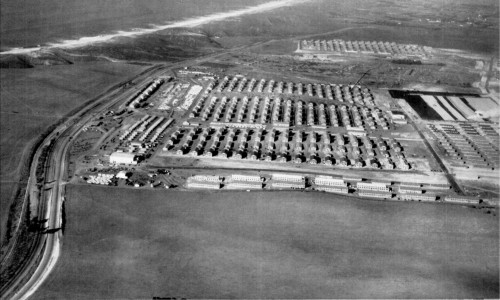 In 1940 the camp was
growing ever larger in size.
It's title was changed to
FORT ORD that same year.
It's use as a staging area was becoming
necessary as war became certain.
WOODEN BARRACKS
TROOP HOUSING
1940 marked the beginning of extensive growth
for Fort Ord. The construction of the wooden barracks
expanded the bounderies of the fort to Hwy 1 on the west.
As well as North and South along the highway's route.
It's boundries would then begin moving eastward.
MAIN GATE
CHECK POINT
This is what the main entrance
and check point to Fort Ord
looked like in 1941.
The large thruway would not be
constructed until sometime later.
THE FIRST TREE
LANDSCAPING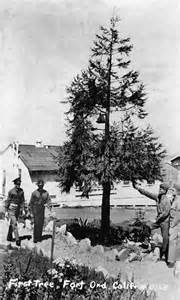 This pinetree was the first
to be planted at Fort Ord.
There were to be many more like it.
They all grew to be very attractive
landscaping and comfortable
shade for the troops.
SEVENTH SIGNAL COMPANY
Maj TYREE E. HORN, CO

One of the most important support groups for any
combat unit. Is the communications company.
The 7th Signal Company trained at Fort Ord
before being assigned to the Aleutians Islands.
543rd EB&SR
LANDING CRAFT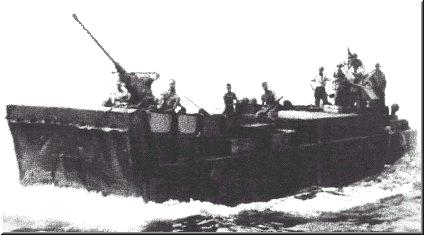 In the movies. We've all seen the troops storm
Omaha Beach, or the sands of Iwo Jima.
This site covers a detailed history of the 543rd.
One of the many amphibious units that
trained at Fort Ord to perfect the tactics of bringing
those troops and their equipment to the shore line.
The Greatest Generation
T4 Oliver R. Smith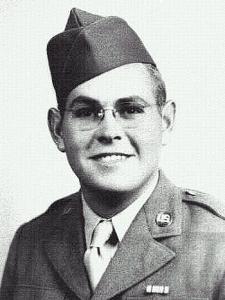 Oliver was stationed at Fort Ord with the
543rd Amphibious unit. After training off the
beautiful shores of the fort's coastline.
The 543rd was sent to the pacific theater.
Oliver's site tells the whole story. Check it out and
learn how these brave individuals moved into
battle armed with nothing more than a landing craft.
Oliver was a member of the 'GREATEST GENERATION'
CPL PAUL NOLL
RA19340783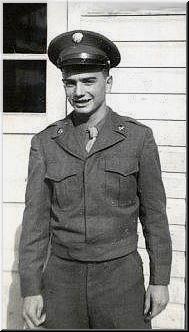 Paul was stationed at Fort Ord from
Jan to June 1949. He took basic training there
with the 4th Infantry Division.
His site tells the whole story..
He explains military acronyms
and shows some documents .
in use during his tour of duty. His photo album
alone is worth the visit.
VETERAN STORIES
1940 FORT ORD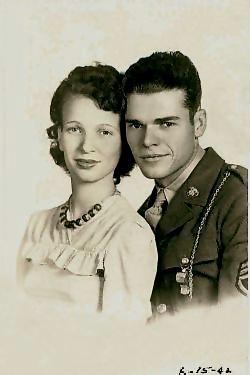 Veterans share their stories of duty time at Fort Ord.
One soldier tells of the time Gen. Joseph W. Stilwell helped him repair a vehicle.
Another discribes what training was like preparing for war.
Individuals from the forties who sacraficed so much to protect FREEDOM.
Reporter 'Tom Brokaw' called them, "THE GREATEST GENERATION"
Home | Photos | FtOrd Links | More Photos | Army LInks | Contact