US 6TH ARMY
DRILL SERGEANTS CREED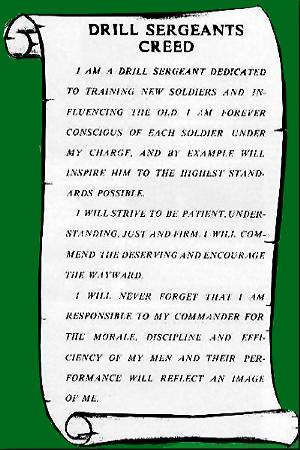 A Drill Instructor's first job is to
stop you from thinking like a civilian.
His second job is to form your
mind into that of a soldier.
My D.I. was a genius at both.
MARCHING
DOUBLE TIME!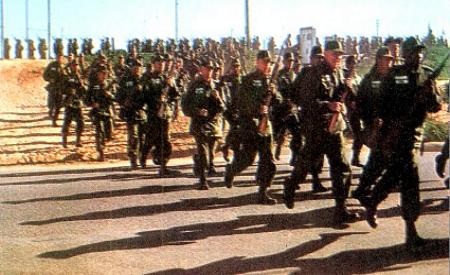 In basic training the main method
of moving troops from place to place around
the fort is everyone's favorite method of transportation,
'MARCHING.' Sometimes like above. It was 'Double Time'
as these troops are doing. Returning from the rifle range.
FULL FIELD INSPECTION
FALLOUT FOR INSPECTION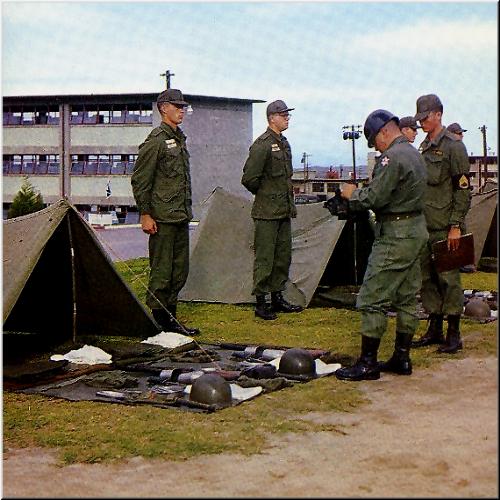 According to a visitor to the site, Buck Burton,
who was at fort ord for basic training in 1962.
"This type of inspection during basic, was the day
before graduation to verify we still had all our field gear."

TEAR GAS ROOM
MASK OFF!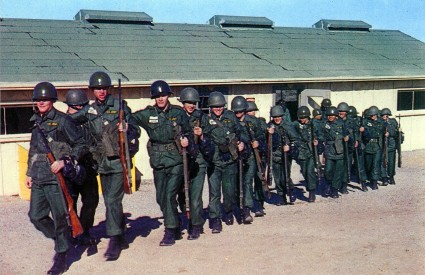 Who can forget the Gas Chamber?
We all enjoyed ripping off our masks and
looking straight down into that
canster with the tear gas tablet.
A cool ocean breeze has never felt as good
as it did that day the minute we got outside.
DEFENSIVE TRAINING
BAYONET TRAINING
Half the fun of being at the fort was all
the training. Bayonet training was to perfect close combat skills.
First it was demonstrated by the D.I. Practice of the technic was next.
Finally it became part of our physical workouts.
GRADUATION DAY
PASS AND REVIEW
This was the final march
we all felt would never come.
It had been a long 8 weeks.
Next stop, A.I.T.
CO A-3-3
MARCH 1968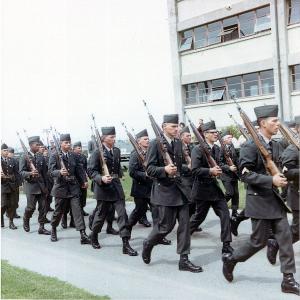 My company marching back
from Graduation ceremonies at
the main parade field.
Home | Photos | FtOrd Links | More Photos | Army LInks | Contact